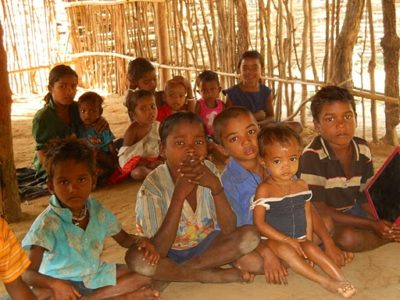 ASDS REHABILITATION PROJECT – KHAMMAM, ANDHRA PRADESH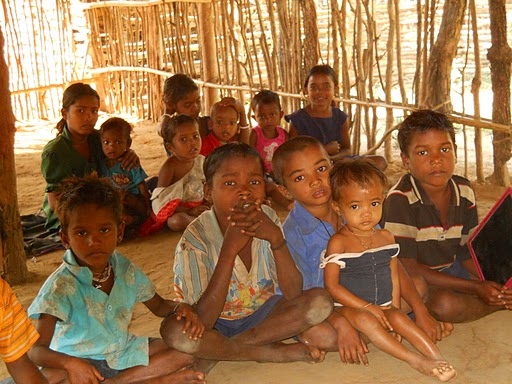 Summary
Since 2008, AID has supported relief, rehabilitation and civil rights advocacy for the tribal families who have been displaced from their homes and lands in Chhattisgarh and have sought refuge in the forests of Bhadrachalam in neighboring districts of Khammam and Warangal in Andhra Pradesh.
Impact
These migrant tribals have shared their experiences of violence with the National Human Rights Commission (NHRC) visited Charla in May. Other commissions including Sarva Siksha Abhiyan along with the Sub Collector also met with the ASDS and proposed various educational programs, currently pending with the Education Department.
To address water scarcity, the people have applied for facilities and meanwhile themselves constructed 3 wells in villages where water sources more than 2 km away. These are not bore wells but rather a traditional water harvesting technique drawing water from the banks of natural streams in the forest. Meanwhile the government has sanctioned 11 more bore wells, of which 2 are complete.
In Charla and Venkata Puram mandals, villagers are also pressing the ICDS to supply feeding on time to the sub centers. In total, the ICDS has sanctioned centers in 68 villages in 5 mandals in the are where the IDPs are living.
All IDP villagers have applied for job cards and so far 92 people in 5 villages have secured the NREGA cards.
Insight
Fleeing violence in Chattisgarh, thousands of Gothi Koya tribal families have taken refuge in the neighboring forests of Bhadrachalam in Andhra Pradesh. Legally, they are called Internally Displaced Persons and though their rights are protected in theory, there is no policy requiring any local government to take responsibility for them. Furthermore, as forest dwelling tribal communities, and that too newly migrated, they face severe prejudice and need support to apply for their basic rights to food, water, work and education.
More than 10,000 people, which includes 4000 children, have been living in close to 250 makeshift settlements, spread across the remotest corners of Khammam.
Prior to January 2008, the Gothikoyas lived as refugees in their own country. Now they have hopes to live as equal citizens.
They will continue applying for ration cards, ICDS services and NREGA cards till 100% of families get services.
The very presence of ASDS ensures that people have some shield, somewhere to go in case of attacks or harassment by police of forest department.
The ASDS assists people in reporting such cases to concerned authorities, to seek justice as equal citizens.
Strategies
AID-NYC has supported a scheme for supplementing the lunch for children attending a Residential Bridge School (RBC) in the Khammam area, along with other initiatives such as:
AID is working with Agriculture and Social Development Society (ASDS) in Rekhapalli, to help these families survive and secure their basic rights.
They have now registered their children for services through the Integrated Child Development Service (ICDS) and have applied for schools, job cards, and bore wells.
The government has already begun to sanction some of these services.
In the villages with most severe levels of malnourishment, ASDS set up feeding centers which also addressed basic education needs.
In each center, a cook prepared the food and teacher distributed it and also taught children aged 6-14.
In addition to the standard ICDS menu, the ASDS provides a high nutrition diet for children, pregnant women and new mothers in 7 villages (of which AID supports 5 villages).
In 2007, ASDS conducted a detailed survey to assess the living conditions of the families in 26 villages in 4 mandals of Bhadrachalam forest division.
Since most families fled after their houses were burnt and all belongings destroyed, they came with nothing and live in abject poverty.
From January 2008 ASDS began relief work in 26 villages.