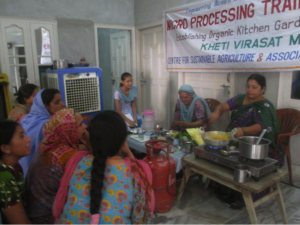 Seed Conservation – KHETI VIRASAT MISSION (KVM)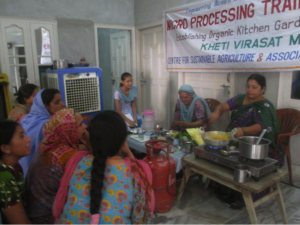 Summary
This project was conceived by the Kheti Virasat Mission in partnership with Center for Sustainable Agriculture (CSA) to engage village women into the process of ecological agriculture and detoxification of food chain of Punjab.
Impact
Working to train over one thousand seed savers in 5 districts. Over 500 indigenous varieties of vegetables documented. Four seed banks established and a lot of diverse vegetables seeds procured. As a result rarer varieties of crops have been propagated for distribution in phase 2.
Insights
Farmers and landless families save seeds and exchange it amongst themselves.
Service Center facilitates the process and documents the varieties of seeds and their characteristics.
This ensures food security of the community and preserves bio-diversity.
Strategies
Phase 2: Existing seed banks are planned to be strengthened to distribute more seeds across their reach.
More smaller seed banks to be developed (based on requests from the ground)
Strengthening the reach of the existing seed banks.
Identified and testing saline resistant varieties of crops in the demo plots.
Encouraging farmers to grow their own vegetables.